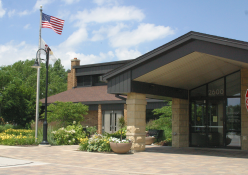 PDRMA Member Since 1986
Woodridge Park District
2600 Center Drive
Woodridge, IL 60517
630.353.3300
https://www.woodridgeparks.org

About Woodridge
Woodridge is a relatively new Chicago suburb, incorporated as a village in August 1959 with fewer than 500 residents. Developers built the majority of the homes, businesses and churches in the decades following the 1950s. In 2010, the census showed 32,971 people living in the village, which has a total area of 9.58 square miles. Woodridge is home to the Home Run Inn pizzeria chain and of Pabst Brewing Company from 2006 to 2011.

Agency Overview
Founded in 1969, the Woodridge Park District offers more than 1,000 programs each year, maintains five facilities and 60 community and neighborhood parks, sites, woodlands, wetlands, bikeways and open spaces totaling 655 acres. Facilities include the Athletic Recreation Center (ARC), Cypress Cove Family Aquatic Park, Village Greens Golf Course and the Community Center. A five-member Park District Board governs the park district.

Mission Statement
Enhance one's quality of life by providing superior parks, facilities and recreational services in a fiscally responsible and environmentally sustainable manner in partnership with the community.

Park District Facilities
ARC.
Community Center.
Cypress Cove Family Aquatic Park.
Village Greens Golf Course.
Programs and Classes
Baseball/softball.
Basketball.
Before/after school care.
Camps.
Dance.
Dodgeball.
Fencing.
Golf.
Gymnastics.
Hockey.
Ice skating.
Martial arts.
Pickleball.
Pre-school.
Senior activities.
Soccer.
Swimming.
T-ball.
Tennis.
Volleyball.
Yoga.